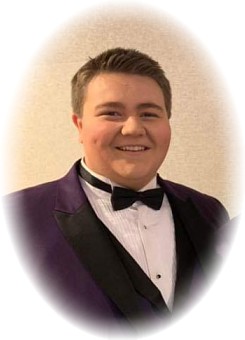 Championship Quartet(s)
Other Awards:
Dallas Halvorson is a lover of Barbershop harmony. He is a third generation barbershopper, and plans to be a life-long member. Dallas is lucky to be able to share this hobby with the rest of his family, and feels that it is quite a special opportunity to be able to sing with his father, Larry Halvorson. At the time of Dallas winning the District contest, Dallas was only 17 years old. Dallas may be young, but he has already been a society member for almost 10 years now, and has 2 man-of-note awards.

Besides the love that Dallas has for barbershop, Dallas is a senior at Rocklin High School, where he is the tenor section leader for the chamber choir, and serves as a student conductor for his Mens ensemble. Dallas has a strong musical passion, and he loves that he has chance to sing every day at school.

If you ever see Dallas at a barbershop convention, make sure to sing a tag with him. He loves tag singing!