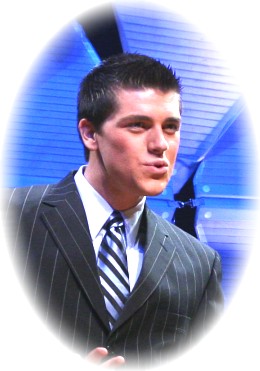 Championship Quartet(s)
Other Awards:
Jordan is obviously the youngest member in Late Show . At age 20, he has already been a member of the barbershop society for ten years. He started his barbershop singing career with The Stockton Portsmen Chorus. There he sang with his dad in Generation Blend and KaBLaM!

Jordan is also an accomplished swimmer who while swimming for The Lodi City Swim Club has swum at prestigious meets such as the 2008 USA Swimming Grand Prix Series in Santa Clara, CA and the American Short Course Championships in Atlanta, Georgia. Jordan's most successful meet to date was the California State Championships in 2007 where he was All-American in all of his three events and was 3rd in the nation in two of those events.

You may have seen him in the High School Quartet competition with the second place quartet, WhirlWind. Or maybe it was when WhirlWind won the 2004 Nor-Cal East Division Championship, or maybe it was when they made top ten at the Far Western District Competition - what a talented group of young men! Or it might have been with PlayBack when they won the 2005 Nor-Cal East Division Championship, and went on to take fourth place at the Far Western District Competition. He does get around.

So be sure to look for his name in a few years on your USA Olympic Team or singing on in the Top Five at the BHS International competition! We are hoping to see him as the first Olympic medalist to sing the National Anthem while being awarded!