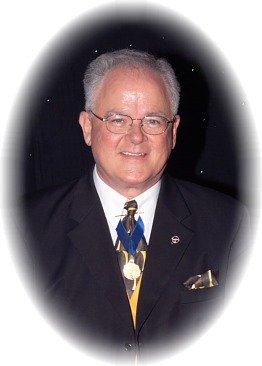 Championship Quartet(s)
Other Awards:
Int'l Champ '98 - Revival
A legend in the world of barbershopping, Bill has taught and coached for many years at Harmony College, a week long, intensive barbershop music, educational conference. He also traveled the country as a Music Specialist, representing SPEBSQSA, while teaching and demonstrating (with his big, booming bass voice), barbershop craft and coaching quartets and choruses. He is well known for his picture on Society vowel target posters, which grace the walls of many chapter meeting halls.

Bill joined the Society in 1964 in Evansville, Indiana under the musical direction of Mac Huff, a former Society staffer and prolific arranger and coach. He then moved to Louisville, Kentucky where Bill's name became synonymous with barbershop. Bill became an integral figure in the Louisville Thoroughbreds as assistant director under the world renowned chorus director Jim Miller, while singing in five of their seven International Championships. Oh yes, he quartetted a fair amount as well! Bill became the bass of the famous "Citations" quartet, who were perennial International quartet finalists, placing as high as 7th in 1972. He competed in 8 International quartet competitions, performed shows in 40 states, Canada and even toured Vietnam with the Citations, as part of the USO, entertaining our armed forces. Bill also sang as substitute bass for the "Blue Grass Student Union", 1978 International Quartet Champions, performing on shows nationally, and in 1984 in the Oval Office of the White House, for President Ronald Reagan. Bill's quartet achievements culminated by winning a gold medal as the bass of Revival the 1998 International Quartet Champions.

Bill moved to the San Diego area in 1989 and directed the San Diego and Rancho Bernardo Chapters. In 1990, he joined the Masters of Harmony and later was appointed their first Assistant Director, under barbershop's #1 music director, Dr. Greg Lyne. While with the Masters, Bill picked up two more International Championships, for a total of seven gold chorus medals!

Bill works for Ferguson Enterprises, a plumbing wholesaler. He and his wife, Joann, also a former Society employee, have four sons and four grandsons.