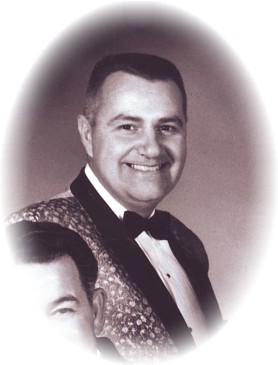 Championship Quartet(s)
Other Awards:
November 23, 1922 - July 28, 2014

Joseph Vincent Rosica passed away peaceful listening to his favorite music in Newport, Oregon on July 28, 2014, after a lengthy battle with Alzheimer's disease.

Joe was born on November 23, 1922 in Philadelphia, PA. to Joseph and Elizabeth Rosica. He attended local schools and graduated from Frankford High School in 1941. After high school, Joe spent time working as a machinist where he honed his skills of "Detail Work", which later proved helpful.

With World War Two breaking out in December of 1941, Joe enlisted in the Army in 1942 and began his military journey which lasted until his retirement from the Air Force some 40 years later. Joe's military career took him for basic training through flight training. He trained as a radio man and then as a pilot in Missouri, Texas, Colorado and California on B-25's and finally his beloved C-47. He missed flying on D-Day, but flew many missions into France, Holland and Germany dropping paratroopers and supplies. His flights into Holland were chronicled in the movie, "A Bridge Too Far". Joe didn't talk much about his exploits unless we asked him about them specifically. One such story was his encounter with a German fighter, which shot off the tail of his C-47. He told us that at 22 years of age he wasn't concerned about himself so much as he was to getting his crew safely on the ground. I suppose that's why they are called, "The Greatest Generation".

During his time at Flight School in Santa Ana, Joe went on a blind date with Margaret (Peg) Johnson. When he returned to his barracks that night, he told his buddies he had just met the girl he was going to marry. After the war he kept his promise and on July 6, 1946 Joe and Peg were married in Santa Monica. Joe went to work in the aircraft industry as a Machinist, using the skills he had learned in prior years. In order to make ends meet, Joe and Peg took in a "Boarder". The boarder told Joe about an opening at Shell Oil Company on Signal Hill. Joe applied for and landed that job, which would take him on a 22 year journey. In those early years the family lived in Fresno, Solvang, Fillmore, Hanford, and finally Bakersfield as Joe work as a Seismologist in the Exploration Department.

In the early 70's Shell Oil Company decided to consolidate their activities in Los Angeles. Joe and Peg, not wanting to uproot the family, decided to leave Shell and start their own TV repair business. Then in 1973 the couple bought property in Cambria, California and began building a house. Joe was not a carpenter, but always felt that if there was a book on something, he could figure it out. So true to his word, Joe bought a book on carpentry and plumbing and began building his house. His attention to detail showed throughout the home as every wall was plumb and every line was straight.

Joe had many hobbies over the years. He was a pretty good bowler with a few trophies scattered about the house. He took up the sport of archery and made his own arrows. Seeing he needed a quiver for the arrows he taught himself how to handcraft leather and won awards at the annual Kern County Fair. Later in life he began building knives from scratch. He would sell a few, but preferred to give them away after they were done. But his greatest hobby turned out to be the art of singing four-part harmony.

In 1961 Joe was attending a Shell Oil Bar-B-Q, when he heard a Barbershop Quartet which was hired for the entertainment. Joe asked the four men about the hobby and attended his first meeting the next week. Joe loved to sing, but had no outlet for all those years. Now at the age of 39, Joe found his calling with the Society for the Preservation and Encouragement of Barbershop Quartet Singing in America (S.P.E.B.S.Q.S.A.) Now the Barbershop Harmony Society. The local Bakersfield chapter allowed Joe to find three other guys and form a quartet. The Thermalaires were born. After a few personnel changes and many hours of rehearsal, the quartet began to improve to a point where they were being requested to sing on Barbershop Shows. Then in 1966, the quartet won the Far Western District Championship in Fresno.

Joe and Peg were involved with the San Luis Obispo Chapter while living in Cambria and then with the Salem, Oregon Chapter while living in Newport, OR.

Joe's Barbershop career allowed he and Peg the opportunity to travel to Ireland, Australia and New Zealand as well as many cities here in the U.S. competing at International Conventions each summer with the Salem Chapter. These years have brought about life-long friendships from all over the world.

Joe was preceded in death by his parents Joe and Elizabeth. He is survived by his sister Betty Tilli (Roland) of Brigantine, NJ., wife of 68 years, Peg, son Bill (Mary) of Bakersfield, Daughter Carol Poitou (George) of Ontario, CA., Michael of Newport, OR., grandchildren Matthew (Carrie) of Bakersfield, Michelle Ragsdale of Redding, Alison Quidato (Hanley) of Ontario, Sean Poitou of Ontario and Great Grandchildren, Natalie Rosica, Hannah Rosica, Christian Rosica, Scott Cotton, Wyatt Cotton, Zoe Quidato and Paige Quidato.