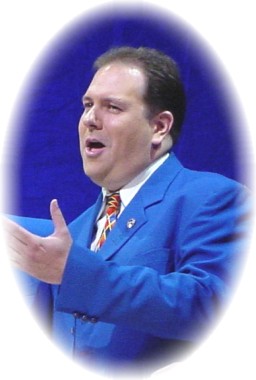 Championship Quartet(s)
1993 Rhythm & Rhyme
2001 Finale


Other Awards:
2006 EVG District Champions - The Dean's List
2011 EVG District Champions - Quadraphonics

Dean joined the society in January, 1988. He and his Man Of Note, Rich Hasty were college roommates at the time. In December, 1987, Rich said to Dean "Hey, there's this new big-wig director coming into town from Chicago and he's gonna lead this new chorus called The Masters of Harmony to greatness". The rest is history. Dean's first barbershop rehearsal was Greg Lyne's first rehearsal with the Masters. Dean signed up the next day and went on to win two Gold Medals with M.O.H. in 1990 and 1996.

Dean's first real quartet experience was with Power Source, which won the SoCal Novice contest in 1990. What they lacked in skill, they made up in volume. At the District Contest afterglow in San Diego in 1991, Les Dergan approached Dean with the idea of forming a quartet with Tim McDonald ( California Fever ) and Craig Ewing (Musician's Choice). This new formation, Rhythm & Rhyme , went on to capture the FWD Championship in 1993, after finishing 2nd to Standing Room Only the previous year. Rhythm & Rhyme finished in the Top 20 in five consecutive International's from 1992 to 1996, twice with Tim McDonald and twice with Ron Black ( Great Western Timbre Company ).

Dean moved away from his beloved FWD brethren in 1999 and got a call sometime later from Joe D'Amore ( Standing Room Only ) with the following offer; "Move back to California and sing in a new quartet". Dean's answer was "No, Yes". Hence, Finale was born with Gary Steinkamp ( Standing Room Only ) as Tenor, Scott Kidder (Kidder & Sons Inc.) "in the baritone place", and Joe D'Amore as D'Basso virtuoso. This was a commuter quartet back before commuter quartets became popular. In the first 18 months, Dean racked up over 250,000 frequent flyer miles on Alaska Airlines! Finale won the FWD title on the first attempt in 2001 and went on to place in the Top 10 at International in Portland in 2002. Due to a scoring snafu at the contest, Finale became the first and only quartet to ever compete singing 11th in the Top 10. Finale had two personnel changes plus tours to Japan and New Zealand before finally disbanding in 2005.

Now having been firmly entrenched in the land of rain and really green trees, Dean's next quartet was "The Dean's List". Ray Davis ( Special Feature , etc) actually came up with the name. The quartet consisted of local singers Darwin Scheel and Society newcomer Tom Weiss. Singing baritone was the incomparable Paul Olguin ( Special Feature ). The Dean's List won both the Forest Grove Ballad Contest and the Evergreen District title on the first try in 2006. The quartet sang probably the longest swan song in history at the following year's contest complete with disintegrating trophy (search YouTube for "Dean's List Barbershop", it's classic!) and then disbanded soon thereafter.

In late 2010, long time Evergreen stalwart and Senateaires chorus director Steve Morin called Dean and suggested a new quartet and Quadraphonics came to be. Bryan Jones, who lives in Evergreen but cut his barbershop chops in the Illinois district, signed on as baritone. Ken Potter, past AFWDC champion with Sam's Club and Rocky Mountain champion with Sound Syndicate, sang the super clean tenor part. Quadraphonics went on to hit what's known in the Evergreen District as the "Triple Crown" by winning the Forest Grove Ballad Contest, International Preliminaries, and the Evergreen District Contest all in the same year! In January 2011, Quadraphonics was presented the "Evergreen Rich Hasty Memorial Triple Crown Trophy" by fellow Evergreen District Champions and Triple Crown winners, '3 Outa 4'.