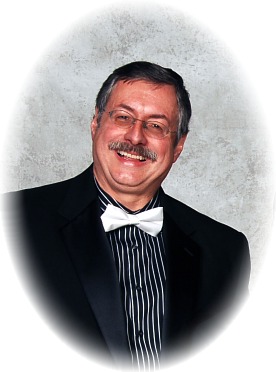 Championship Quartet(s)
1986 Great Western Timbre Company


Other Awards:
2008 Sr. 3rd Place Bronze Medal
2009 Sr. 4th Place Bronze Medal
Ron attended both Immaculate Heart and Occidental Colleges in Los Angeles, majoring in Renaissance vocal and instrumental performance. He has also conducted both vocal and instrumental performances of classical works and musical theater.
Ron sang bass in the Great Western Timbre Company , 1986 Far Western District quartet champion and 1988 15th-place international semifinalist, and currently 4th place Senior Quartet. He also sang bass with Rhythm and Rhyme, which took 14th place in the 1997 international competition. He has directed the Fresno Gold Note Chorus , seventh-place international competitor in 1984 and 1985 and consistent top-five finisher in FWD competitions from 1979 through 1999.
Ron moved to Texas in 2003 to direct the Heart of Texas Chorus in San Marcos, who have competed as a SWD representative six times, and placed 9th in the International Chorus contest in 2008 in Nashville. In addition, he coaches many quartets and choruses in the U.S. and abroad. Ron has been a part time faculty at Texas State University, San Marcos, where he conducted the Men's Chorus, but has now moved with his wife Jo to Rocklin, California to be near the new grandchildren. He currently directs the Sacramento Capitolaires and is Associate Director of the American River Chorus .
As a past Singing Category Specialist and a former Contest & Judging Committee chairman, Ron currently judges in the Music Category. In his infrequent spare time he eats, sleeps, and writes computer accounting software.