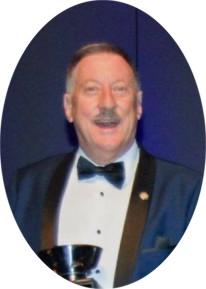 Championship Quartet(s)
Other Awards:
Dan Davenport (Bass) started singing in 2nd grade, and was always in school choirs. Dans dad Lew joined the Phoenicians Barbershop Chorus during Dans high school years, and Dan attended a Phoenix show in 1973, just to see Pop and his hokey chorus. He was surprised and thrilled at what he saw and heard, and was immediately hooked - joining the Barbershop Harmony society soon after.
Dan spent many years singing Baritone in the chorus, and with several quartets. He moved to the Bass part in 2001 and his quartets have won several AZ Quartet Championships and recently the 2019 Far Western District Quartet Championship with Vocalocity . In 2016, Dans quartet High Priority won the International Seniors Quartet Championship in Reno, NV.
Dan has competed with the Phoenicians and Spirit of Phoenix choruses, earning several awards including an International Chorus Gold Medal in 1983 in Seattle. His deep bass voice is well known in the Barbershop Harmony Society.
Dan is semi-retired, but also self-employed in the computer I.T. support arena. He lives in Mesa with his wife Cindy, and between them they have 5 grown children and 4 grandchildren.