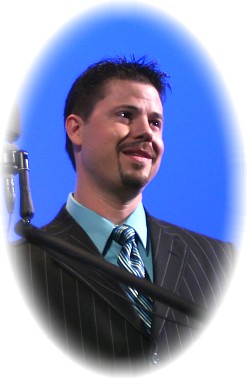 Championship Quartet(s)
2006 Late Show
2011 Artistic License


Other Awards:
Gabe began singing barbershop at age 16, joining the Cascade Chorus in Eugene, Oregon and singing lead in his high school quartet The Uncalled Four. Gabe is thrilled to have represented the Evergreen District on the International Contest stage in 1988 - the Eugene Chapter placed 10th!

While attending the University of Oregon (GO DUCKS!!), Gabe sang bass in a college quartet, Secret Formula, that placed 2nd in the MBNA International College Quartet Contest in Calgary, Alberta (that's in Canada...). In addition, he was the MUSICAL DIRECTOR of the Cascade Chorus for a couple years. Of course there was that little bit about his chorus getting disqualified, but no need to go into that here... :-)

Gabe moved to Boise, Idaho in 1993, where he sang bass and then tenor in a quartet (eventually) called Straight Ahead, placing as high as 2nd in the Evergreen District contest in 1999. (Hmmmm, 2nd, huh? Do you see a pattern here?) He was DIRECTOR of the Boise Valley Chordsmen for six years while in Idaho. He also sang bass in Razorburn and baritone in Upswing, before moving to California in January 2004. That's when he hooked up with Jordan singing in PlayBack where they won the 2005 Nor-Cal East/Northern Nevada Championship.

In January 2006, Gabe went to check out the new Voices In Harmony in the Bay Area...just for fun. Well, he hasn't missed a rehearsal since! :-) In addition to being Baritone section leader, he also serves as an Assistant Director for VIH and was excited for their first trip to International in July 2007!

A former music educator, Gabe is now the FINANCIAL MANAGER for CSHQA Architects in Sacramento. He has two sons, Wesley and William, and resides with his fiancé Cindy and their dog Brutus in Manteca.