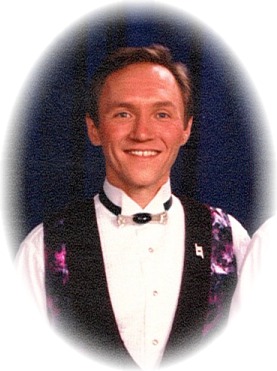 Championship Quartet(s)
1978 The Grand Tradition
1994 Western Union


Other Awards:
Medalist '80, '82, '83 - Grand Tradition
Dave's father Richard joined a small chapter near Sacramento when Dave was a toddler, and one of his earliest memories is of eight giant plaid-clad knees, with amazing sounds floating down from above. His dad brought him into the El Cajon Music Masters at age fourteen, where he alternated between baritone and tenor. He sang in many chapter quartets, usually with his dad.

In 1976, Bob Gray, Jr. approached him about a quartet he was forming called " The Grand Tradition ", with bass Terry Monks and lead Lester Lee. GT became So Cal novice champs and fifth-place FWD medalists in 1977. Then, after a personnel change (can you say "Danny Lee Jordan"?), they earned a FWD championship (1978) and three International medals (1980, 1982, and 1983).

The road to Dave's second FWD championship began when he and Terry connected with Mike Lawton and Mike Spencer, and " Western Union " was born. This led to four trips to International, where they placed as high as 13th, the FWD championship honors in 1994, and many shows across the country.

Dave has directed two small choruses, was assistant director of the San Diego Sun Harbor Chorus for some years, and now directs "The MenschTones, a Jewish barbershop group. He also coaches a barbershop ensemble at Poway High School.

Dave graduated from UCSD in 1981, with a degree in Computer Science. He has been employed in software and database engineering ever since, and is now an engineering specialist with BAE Systems in San Diego. He describes software engineering as "... a career where people pay you to play with their expensive toys."

He and his wife Marlene have been married for 27 years, and are the proud parents of Jenny (singer/songwriter, artist, writer, and recent USC graduate) and Rachel (11th grader at Rancho Bernardo High, singer, percussionist, planning a career in medical research). They perform for local charity events as "The Garstang Family Singers". Dave also accompanies his congregation's Youth Choir (directed by daughter Jenny), and performs in community musical theater.