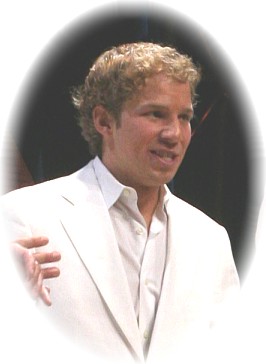 Championship Quartet(s)
Other Awards:
2008 International Champion - OC Times
Cory was born and raised in Reno, Nevada. His first documented and recorded singing performance was at age three while getting dressed to go play in the snow. At age six he met Bill Weiser, who gave him voice lessons and introduced him to barbershop. Cory joined the Reno Silver Dollar Chorus later that year. His first quartet, at age twelve, was the NorCal East division champion/district novice champion Qyduhmix (with Mike).

After `Q` disbanded, Cory was asked to sing bass in OC Times , a young quartet based in Southern California. They quickly rose in the competitive quartet world and, in 2008, OC Times wonn the International Quartet Championship. (Die hard `Q` fans will note, his first documented competitive quartet bass singing was holding the bass note on `Q` s "When the Midnight Choo Choo Leaves for Alabam'" at the 2004 International convention in Louisville, Kentucky!)

Cory is a member of the Reno Silver Dollar Chorus, sang bass in the 2005 and 2008 International Chorus Gold Medalist's The Masters of Harmony, and was bass section leader of the 2007 and 2010 International Chorus Champions, The Westminster Chorus .

Cory is a graduate of the University of Nevada, Reno, in Political Science and Cultural Geography and works as a policy and management consultant.