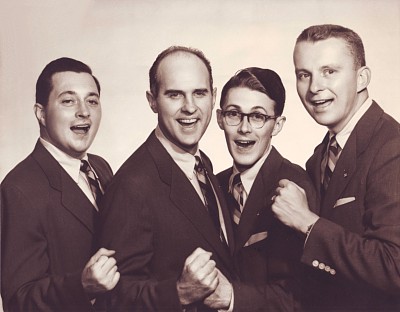 Photo property of the Dan Jordan Archives. Used with limited permission.
1954 Champions
Tenor: Barrie Best
Lead: Tom Keehan
Bari: Jim Potter
Bass: Bill Cockrell
Awards:
1954 FWD Champions
1957 International Silver Medallist Quartet
1958 International Bronze Medallist Quartet

International Rankings:
| 1956 | 1957 | 1958 | 1959 | 1960 | 1961 | 1962 | 1963 | 1964 | 1965 |
| --- | --- | --- | --- | --- | --- | --- | --- | --- | --- |
| 8 | 2nd | 4th | | | | | | | |
Associate Members:
Lead: Buck Hay - 1955
Lead: Jim Powell - 1957
Bari: Les Woodson - 1958
The West Coasters were organized in 1953 with Bill Cockrell-bass; Tom Keehan, lead; Jim Potter bari; and Gordie Lees--Tenor.
They entered the FWD contest in the spring in San Jose--prelims for the Int'l that summer. We did a fair job but did not qualify for Int'l.
In summer, 1954 we replaced Gordie with Barrie Best who had just moved here from Winnepeg, Canada. Our first real appearance was on th San Gabriel chapter show in October. The headliner quartet was the ORPHANS-the current Int'l Champ s!! They were a great inspiration for us. The following week we entered the FWD quartet contast with the goal of making the evening show! We not only made the show, but won the contest--FWD Champs in Bakersfield!! After that we were flooded with invitations to appear on shows all over the FWD.
The following spring we didn't make the top 3 and didn't qualify for Int'l. We served out our District Champ year and replaced Tom with Buck Hay as lead.
We qualified to go to the Int'l contest in Minneapolis and finished 8th. The following year, 1957, Buck moved away and Jim Powell became our lead. The Int'l contest was in Los Angeles at the Shrine Auditorium. the slogan for the contest was BOHIFS (Bit of Heaven in Fifty Seven!!
We ended Silver medalists!!
Shortly after the contest Bill developed an infection so we were unable to take any jobs. Jim Potter got married and changed jobs so was unable to sing with the quartet when Bill recovered.
Les Woodson took Jim Potter's placec and they sang in the 1958 Int'l and came in FOURTH!!
That's the story about the West Coasters. Later, Bill,Tom, and Gordie formed the Gala Lads with Dave Panther (tenor) amd went on to win the Int'l Contest.
Sample Songs

West Coasters - Waiting For The Sunrise


West Coasters - When The Bees Make Honey
Tribute Video: