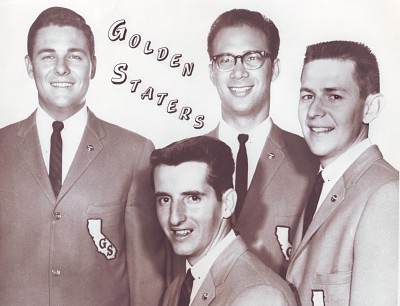 Photo property of the Dan Jordan Archives. Used with limited permission.
1963 Champions
Tenor: Gary Harding
Lead: Jim Meehan
Bari: Jack Harding
Bass: Mike Senter
Awards:
1963 FWD Champions
1972 International Champions

International Rankings:
| 1963 | 1964 | 1965 | 1966 | 1967 | 1968 | 1969 | 1970 | 1971 | 1972 |
| --- | --- | --- | --- | --- | --- | --- | --- | --- | --- |
| | 7 | 6 | 4th | 5th | 3rd | 2nd | | 3rd | 1st |
Associate Members:
Lead: Ken Ludwick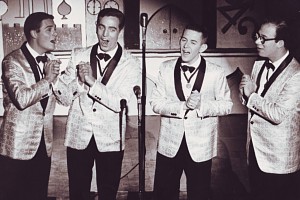 Lead: Milt Christensen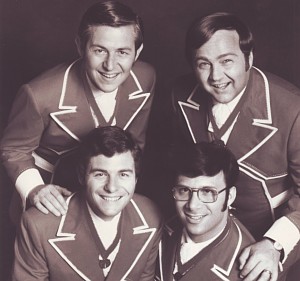 The long road to the international Chamionship by southern California's Golden Staters, 1972 quartet champions, was marked by a number of "firsts".
They were the first foursome ever to win all five medals (although the Boston Common later duplicated this feat), the only one to place in every position from seventh to first, and certainly the only quartet to compile this enviable record with three different leads: Jim Meehan, Ken Ludwick and finally Milt Christensen.
Organized in 1960, the original quartet consisted of tenor Jack Lang, lead Joe Rook, bari Buddy Yarnell and bass Mike Senter.
Through dozens of personnel changes over the next few years, Mike was the only member who remained, and all the others freely acknowledged him as the leader, composer-arranger, musical director and in-house coach of the Golden Staters.
The composition of the quartet stabilized somewhat in late 1961 with the return of brothers Gary and Jack Harding (their second "tour of duty") as tenor and bari, respectively. But it was 1970 before Milt Christensen was transferred by his company from Salt Lake City to California, and he became the final GS lead. Milt had been lead of the Salt Flats, one of the nation's most popular comedy quartets, which decided early in 1970 to retire the pitch pipe.
Milt was the lead in New Orleans in 1971 when the Golden Staters placed third (for the second time), and he was on hand the next year in Atlanta to help them win the gold.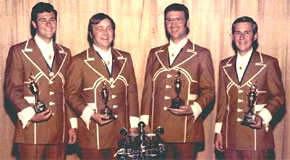 Sample Songs: