The Pacificaires were a very popular Far Western District quartet with a large following. They first sang together in 1966 when a chapter quartet was breaking up. Fred Dregne and Al Huebner approached Mike to start a new quartet with Rudy (a new member). Rudy's claim to fame was that he was a successful child actor and appeared in 26 movies (from 1941- 1950). Most notable was his "appearance" in the 1946 movie, The Jolson Story. At the age of 22, Rudy was the "singing voice" of the young Jolson (Asa Yoelson). Jolson was actually in the recording studio when Rudy recorded his parts. Rudy was honored by the Al Jolson Society and made an honorary member. They featured him performing at many of their conventions. He published a CD a few years ago with many of his performances with the Pacificaires and some of his recorded radio performances.
On The Road
As well as competition, The Pacificaires were a very active show quartet. They averaged about 35 shows a year. Dressed alike for the trips, they got a kick out of being accused of being a bowling team. What was their most memorable Pacificaires show? Mike tells us, "This is tough - On the way to do a show in Iowa we were surprised to be upgraded to first class and learned that the pilot was a Society member. He announced us over the plane's intercom and we got to sing for that "captive audience".
Our trip to the Twin Falls, Idaho show was quite memorable when the chapter chorus met the airplane singing "You're As Welcome As the Flowers In May". They then proceeded to take us to a major intersection in downtown Twin Falls, where they had us sing while the chapter members hawked tickets to those gathered."
The weekend of the Great Falls, Montana chapter shows was unique. Turns out that one of the members owned a Cadillac dealership. They were given a brand new Caddy to use for the weekend.
In the 1970 FWD International Prelims they came off stage thinking they did a poor job. Turns out they won it and qualified anyway (the halo effect?). Later they redeemed themselves at International placing third, a major move up from 8th the previous year.
Why didn't The Pacificaires ever win? There was a paradigm shift in the style during their time. "The Dealer's Choice won in 1973 about that time with quartets doing more to match vowels. Every competing quartet started to emulate that. It happened pretty fast so we fell behind."
They felt they had their best chance to win in Atlanta in 1972, but came closest in 1973 and missed the gold by only 104 points. In 1973 a young upstart quartet, competing in their FIRST contest, The Dealer's Choice, surprised everyone and won the gold on their first try.
A New Tenor
Mike was on the list for a corneal transplant and got the call in early 1973. This caused him to have to take a short leave of absence. The quartet decided to replace him with Al Mau. They went to International with Al and (again) placed second. Mike laughs, "They should have kept me!"
Their repertoire was standard barbershop fare with songs like Earl Moon's arrangement of Cross That Mason Dixon Line, Buzz Haeger's arrangement of Broadway Rose, It's a Great Day, Summertime, Swanee and a tribute to Rudy's fame, their Jolson Medley. A particular favorite was Lost In The Stars.
A favorite friend was Society arranger and coach Earl Moon. He sang with the Far Westerners. To help this new quartet, he gave them his arrangement of Cross That Mason Dixon Line. After they started "beating" Earl's quartet in competition, he jokingly told them, "Had I known I wouldn't have given you that song."
The quartet broke up in 1974 after a short 8- year career.
When asked if there was ANY advantage to NOT winning the gold, Mike admits, "... Not that I can see".
The Pacificaires reunited back in 1980 to assist the Napa Valley chapter. They shared the stage with the Gala Lads (also coming out of retirement). Then in the early '90s the three surviving members joined up with Chuck Brooks (lead of the Colonials - 1960 3rd place quartet) and performed on the Santa Clarita Valley, CA chapter show. Rumor is there's a CD of these two performances.
They did record an LP in 1970 entitled "A Good Day" with many of their hits (produced by Shelley Herman).
These guys are credited for singing in other foursomes;
Bill Fritz - Mystics and The Wizards of Ahs Al Mau - Remember When and Western Continentals (1968 Champions)
Where Are They Now?
Mike (68) is the only surviving member of the original Pacificaires. He went on to compete again in the seniors quartet contest in 2005 at the Jacksonville mid-winter with The Sands of Time. They came in 6th place.
He retired a year ago from being a computer programmer with Disney and is still an active Society member. He lives in Loveland, Colorado. He's the Music VP for the 40-man Longmont chapter. He still sings in a quartet – a senior quartet who calls themselves, Used Parts. He and Joyce have been married since 1965 proving the years have been kind to Mike.
Today he looks back with fondness for those old days.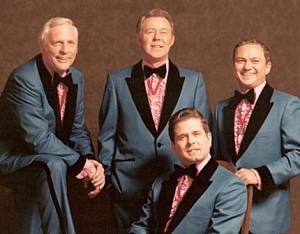 Al Mau (84) is retired and playing lots of golf. He and his wife, Alice, have been married 60 years and live in Sun City West, Arizona. His son has carried on the family performing chores. Gary Mauer has starred on Broadway and, most recently, in his third national tour as the Phantom in The Phantom of the Opera. Among his many roles Gary has also played Jesus in Jesus Christ Superstar.

Bari Fred Dregne
died February 4, 1988, he was 62

Bass Bill Fritz
died November 23, 1996 he was 76

Lead Rudy Wissler
died January 11, 2007 he was 79
Sample Songs:
Tribute Video: