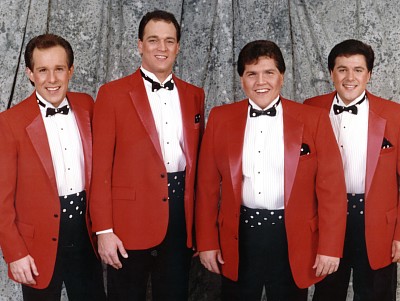 Photo property of the Dan Jordan Archives. Used with limited permission.

1991 Champions
Tenor: Rob Menaker
Lead: John Sasine
Bari: Jeff Baker
Bass: Brett Littlefield
Awards:
1991 FWD Champions
1996 International Champions

Recordings:
CD - "Songs at Twilight "
CD - "Basin Street Blues "
CD - "Blues in the Night "
International Rankings:
| 1991 | 1992 | 1993 | 1994 | 1995 | 1996 | 1997 | 1998 | 1999 | 2000 |
| --- | --- | --- | --- | --- | --- | --- | --- | --- | --- |
| 31 | 11 | 4th | 2nd | 3rd | 1st | | | | |
Nightlife, from Southern California, is only the second quartet in barbershop singing history to win gold medals as both international quartet champions and as members of the winning barbershop chorus on the same day! Truly a fitting achievement for four individuals who have spent most of their lives singing and performing for others. They have among them more than 95 years of barbershop experience -- something that clearly shows itself in their superb interpretation of songs and enjoyable entertainment package.
Nightlife first got together in November of 1990, and in the fall of 1991 won the Far Western District Quartet Championship. In the international competitions that followed, the quartet quickly achieved success as well, winning two bronze medals and a silver. But, in July, 1996, Nightlife reached the pinnacle by being declared the new International Quartet Champion!
Each man in Nightlife has been a section leader of their home chorus, the Masters of Harmony (Multiple International Chorus Champions), and members of the music committee. Both John and Brett have experience as musical directors for other barbershop choruses. John directs the Wasatch Front Saltaires in Salt Lake City, and Brett has served as the director of the California Promise Chorus in Irvine, California and interim director of the Masters of Harmony.
Nightlife has performed throughout the United States and other countries including Canada, England, Ireland, Germany, Australia, and Fiji. They have performed for celebrities such as Dick Van Dyke, former Senator John Glenn, Bill Hanna of Hanna-Barbera, Ted Turner, and Jane Fonda. The quartet had a featured role in a CBS movie, "Mother of the Bride," and has appeared on the ABC daytime show, "Mike and Maty."
Their recordings, "Songs at Twilight", "Basin Street Blues", and "Blues in the Night" are available on both compact disc and cassette.
You are sure to be rewarded by Nightlife--a quartet and sound of distinction!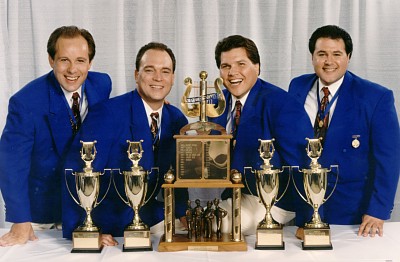 Sample Songs:

Nightlife - Birth Of The Blues


Nightlife - Basin Street Blues