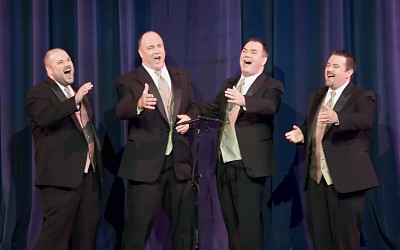 2008 Champions
Tenor: Rob Menaker
Lead: Mark Hale
Bari: Alan Gordon
Bass: Brett Littlefield
Website: http://www.masterpiecequartet.com/

Awards:
2008 FWD Champions
2013 CARA Award "Best Barbershop Album" for "Nice & Easy"
2013 CARA Award "Best Barbershop Song" for "Stormy Weather"
2013 International Champions

International Rankings:
| 2009 | 2010 | 2011 | 2012 | 2013 | 2014 | 2015 | 2016 | 2017 | 2018 |
| --- | --- | --- | --- | --- | --- | --- | --- | --- | --- |
| 6 | 6 | 3rd | 4th | 1st | | | | | |
Recordings:
CD - "Nice & Eazy"
Associate Members:
Lead: Patrick Haedtler - 2010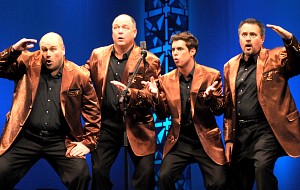 Yes, this quartet has some very impressive singers in the group. Rob is a strong and accurate Tenor, Mark sings with musicality that is unmatched, Alan is one of the best baritone in our Society. Alan can fill and sing like a Bass and yet match the musicality and sensitivity of the Lead. Brett… well, Brett is Brett. His resonance and deep voice is tremendous.
Masterpiece represents all that is right about our Society and why we sing together. First and foremost, they are all friends. They get along together and enjoy each other's company. That really comes across on the stage when they are singing. An audience can tell when a quartet's members are friends.
The members of Masterpiece are also "crazy" technicians when it comes to perfecting the craft. It's just the nature of the foursome. They understand what it means to be a barbershopper. They "get" the culture of the Barbershop Society and why we sing. It's not just the music, it's also the fellowship of meeting and hanging out with other brethren around the country who share the love of this great hobby/lifestyle. When Masterpiece agrees to do your show, they won't ask to be first on the afterglow so they can catch the midnight flight home. They will stay and close out the afterglow. If you give them a beer, they'll stay even longer. That's because all four of them joined barbershop as kids. They were all raised in small chapters and learned probably 90% of their musical abilities through the Society and its educators. While they are all superstar singers, they are humble men who give back to the Society that has so enriched their lives. They will go out of their way to make us/Society look good in the public's eye and be incredible ambassadors to the art form.
In January of 2010 Masterpiece announced the selection of Patrick Haedtler as their new lead singer.
In 2013 after a relatively short career Masterpiece took home the Gold at the International competition in Toranto.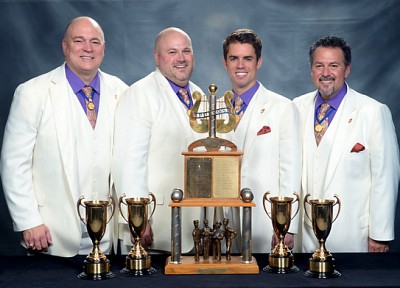 Sample Songs:

Masterpiece - Nice N' Easy